Desinclor - Chlorhexidine Solution 1% 500 ml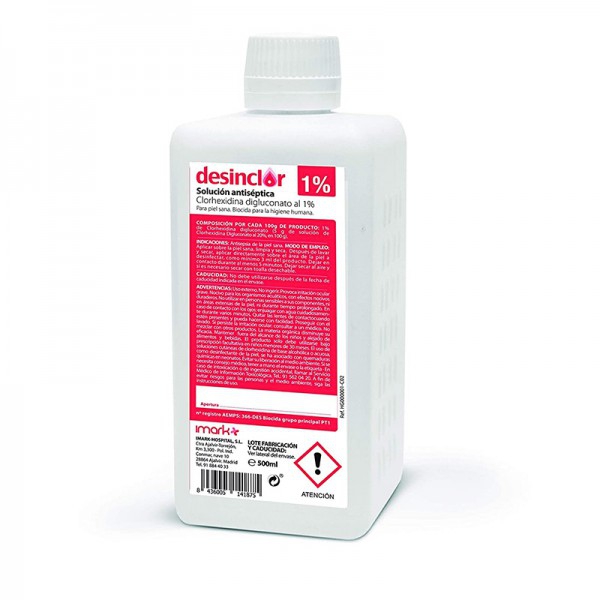 4,25€
Including VAT
(3,86€ without VAT)
Product in stock. Immediate shipping
* The shipping costs are calculated in the shopping basket
Reference: 25
Description
Desinclor Chlorhexidine 1% 500ml is a 1% aqueous solution of chlorhexidine, with antiseptic action, for pre-operative disinfection that is applied both to the skin and to the puncture areas. Disinfects the skin area where it is applied with great efficiency and speed.
How to use Desiclor - Chlorhexidine Solution 1% 500 ml
Apply to healthy, clean and dry skin. After washing and drying, apply directly to the skin area to be disinfected, at least 3 ml of product. Leave in contact for at least 5 minutes. Allow to air dry and if necessary dry with a disposable towel. Do not use in people sensitive to its components, or in large areas of the skin, or for a long time. Do not mix with other products. Organic matter decreases its effectiveness.
Desichlor Warning - Chlorhexidine Solution 1% 500 ml
Strong pink. Irritates eyes. Inhalation of vapors may cause drowsiness and dizziness. Keep out of reach of children. Stay away from food and drinks. Avoid contact with eyes, mucous membranes and sensitive areas of the skin. In case of contact with the eyes, wash them immediately and abundantly with water. Use with caution in children under 2 years of age. In case of ingestion, go to the doctor immediately and show him the label or the container. In case of poisoning or accidental ingestion, call the Toxicological Information Medical Service, Telephone 91 562 04 20. In order to avoid risks to people and the environment, follow the instructions for use.
Composition of Desiclor - Chlorhexidine Solution 1% 500 ml
100 gr of solution contains: 1 gr Chlorhexidine Digluconate.
Reviews
4,8
82 reviews

loading reviews...
Victoria
Spain
15/06/2023
VICTORIA
Spain
14/04/2023
ANTONIO
Spain
12/01/2023
anonymous
Spain
17/08/2022
Gorka
Spain
07/05/2022
anonymous
Portugal
11/03/2022
anonymous
Portugal
29/01/2022
anonymous
Portugal
01/12/2021
anonymous
Spain
07/09/2021
anonymous
Portugal
05/09/2021