Neuromuscular Bandage - Kinefis Kinesiology Tape Beige 5 cm x 5 meters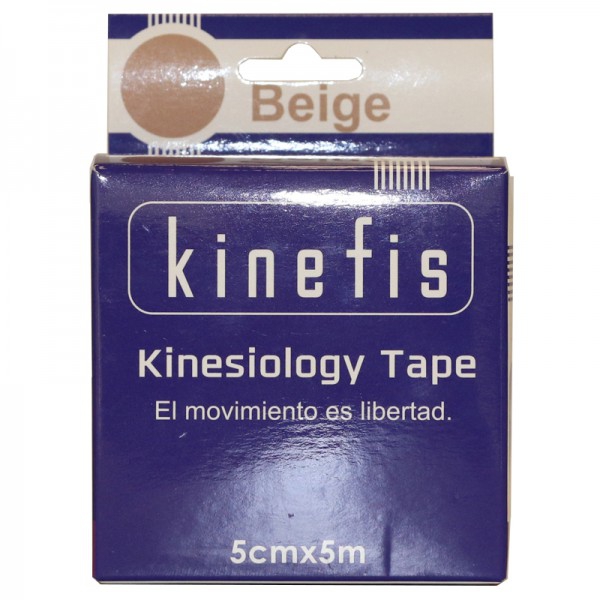 -26% off
5,85€
Including VAT
(5,32€ without VAT)
before 7,95€
Product in stock. Immediate shipping
* The shipping costs are calculated in the shopping basket
Description
Kinesiology Tape Kinefis - Get a natural cure by activating the neurological and circulatory systems
-Stimulates the body's natural healing process.
- Help in muscle function without limiting mobility.
- Reduces inflammation and tissue pain.
- Ideal for treating sports injuries, backaches, arituclares, tendinopathies, drains, scar care.
Neuromuscular bandages have passed from elite athletes to the rest of the population in record time. Not surprisingly, the combination of the benefits provided by kinesiology tapes together with the ease of use, freedom of movement and the super competitive price , have achieved that what was born as an exclusive article has passed to the general public.
Kinefis Kinesiology Tapes are made from braided cotton microfibers , are water resistant and the self-adhesive they use (Cyanoacrylate) is for medical use. The bandages are hypoallergenic, do not contain latex or medications, are elastic in the longitudinal direction, between 150% and 160%, which is recommended by specialists who apply the technique worldwide.
The benefits of Kinesiology Tape Kinefis can be grouped into three main areas:
Analgesic effect: The use of kinesiotape manages to increase the subcutaneous cellular space, which causes a significant decrease in the pressure of the mechanoreceptors located in this space, and in this way nociceptive aferences are reduced. This location also improves local circulation, favoring the drainage of inflammatory mediators accumulated in the injured area.
Neuromechanical effect: the elasticity of the bandage causes it to retract towards the first point to which it adheres to the skin (called the base of the bandage). This traction on the skin and on the superficial fascia strains the collagen fibers located perpendicularly and diagonally between the latter and the deep fascia, triggering a protective reflex to avoid overstretching of these tissues located in the subcutaneous cellular tissue.
Circulatory effect: The elasticity of the bandage causes the skin to slightly rise forming superficial skin folds called waves, wrinkles or convolutions, which increase the subcutaneous cellular space where blood and perilymphatic capillaries are found; This increases the local circulation of the region where the kinesiotape is applied.
Application Method:
- Avoid storing at high temperatures.
- Do not expose the bandages directly to sunlight.
- Keep out of the reach of children.
- Position carefully and better when the tape is wet / wet.
- Remove the bandage without pinching or lifting the skin.
Technical characteristics:
- Color: Beige // Black // Pink // Blue
- Measures: 5 centimeters x 5 meters
- Materials: Cotton and polyurethane
- Adhesive: Cyanoacrylate
- Elasticity: 150% - 160%
- Waterproof
Reviews
4,6
15 reviews

loading reviews...
FISIOTERAPIA E PILATES
Portugal
18/09/2023
Pedro
Spain
25/05/2023
Begoña
Spain
08/04/2023
Noelia
Spain
10/06/2022
Marta
Spain
06/04/2022
anonymous
Spain
12/01/2022
anonymous
Spain
10/12/2021
anonymous
Spain
28/10/2021
anonymous
Spain
18/12/2020
anonymous
Spain
21/10/2020