Riester ri-mini® XL 2.5V Fiber Optic Pocket Otoscope in Case (Black)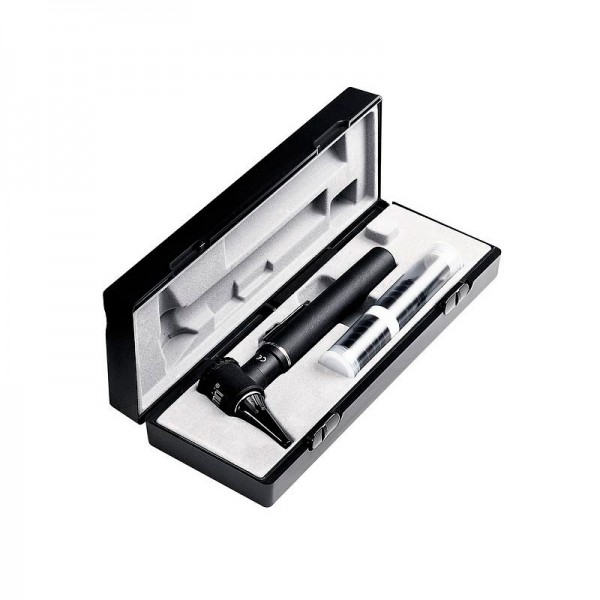 96,10€
Including VAT
(79,42€ without VAT)
Product in stock. Immediate shipping
* The shipping costs are calculated in the shopping basket
Reference: 3010
Description
Small size otoscope that fits in your pocket . It includes specula of different sizes for a correct examination of the eardrum and the auditory apparatus . Battery Operated black colour.
ri-mini® otoscopes are highly suitable for both doctors and students. Their low weight and manageable design make them very useful companions, both in hospital and home visits and in daily use. ri-mini® otoscopes impress with their excellent price-performance ratio.
Riester offers excellent pocket instruments for ENT and direct ophthalmoscopy, made of resistant materials.
Technical characteristics:
- ri-mini® with halogen lighting HL similar to daylight.

- Made of fiberglass reinforced plastic, in attractive Riester colours.

- Interchangeable screw heads.

- Metal clip on the handle for secure attachment to the gown.

- Convenient turning on and off of instruments with the slider switch on the handle.

- Practical adjustment ring with robust metal thread to place the instrument head in the ideal position with respect to the handle.
​
- The sets are supplied in premium quality hard cases.

- Developed and manufactured in Germany.

- The practical ri-mini® FO otoscopes are used to illuminate and explore the ear canal. An innovative fiber optic system allows an optimal concentration of light. The excellent materials and the careful manufacturing process guarantee high reliability in all examinations.

- With XL 2.5 V halogen lamp.

- Fiber optics for optimal concentration and transmission of light. In combination with the lamp, it provides a cold examination light similar to daylight, which is very pleasant for the patient.

- Detachable 2.5x magnifying glass.

- With the magnifying glass removed, external instruments can be inserted.
​
- Screw lock for secure mounting on the handle.

- Sturdy adjustment ring to place the head in the ideal position with respect to the handle.

- Watertight system for performing pneumatic otoscopy.

- Housing made of fiberglass reinforced plastic, extremely resistant.

- Chrome-plated metal base resistant to aging in the front part of the head, for quick assembly and disassembly of the speculum.

- Easy replacement of the lamp at the bottom of the instrument head.

- Plastic tube with five 2.5 mm and five 4 mm reusable ear specula.

- Handle for two AA type batteries.

- Batteries not included.
Spare parts and accessories for this product
Reviews
5
7 reviews